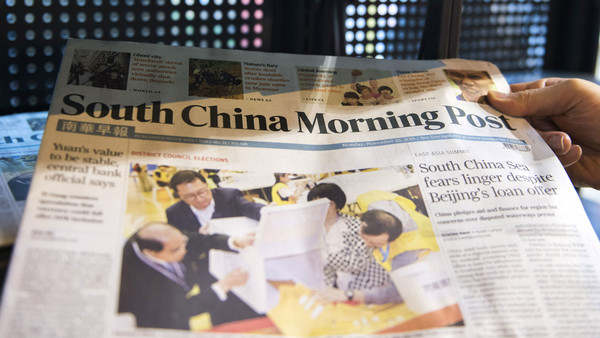 ©Bloomberg
Late last year, Robert Kuok was asked by friends how he felt when he finally sold the South China Morning Post after a 24-year proprietorship. The Malaysia-born commodities and property tycoon replied by wiping his brow with a thespian flourish and emitting a long sigh of relief: "Phewww!"
Hong Kong's leading English-language newspaper had been an odd addition to Mr Kuok's business empire, which spans Southeast Asian sugar and palm oil plantations, the Shangri-La hotel chain and Beijing's tallest office tower.
Before the advent of the internet, the SCMP enjoyed a de facto monopoly over Hong Kong's then-lucrative English-language print advertising market. However, even that seemed poor compensation given the propensity of the paper's unruly editors and journalists to annoy, on a daily basis, the ruling Chinese Communist party — and potentially taint the rest of Mr Kuok's business interests by association. He could have attempted to rein in the paper but that seemed to offer only reputational risk.
So why would a hugely successful businessman make himself an easy target for critics who suspected his real intent was to prune an occasional thorn in Beijing's side? SCMP readers are now asking exactly the same question of Jack Ma, the Chinese magnate who has agreed to pay $ 266m for the paper.
It is not particularly clear why Mr Ma might want a newspaper. The Alibaba Group chairman is China's second-richest man and has expanded from his internet base into sectors as diverse as financial services and sport. Some people joke that Mr Ma asked his staff to pick up a copy of the newspaper, but they misunderstood him and bought the company instead.
While Alibaba has said it will not interfere in the SCMP's editorial operations or use it to curry favour with the party, one of Mr Ma's top lieutenants has already suggested western media outlets cover China "through a very particular lens" that "taints" their view of the country.
Whether Alibaba honours its non-interference pledge is not just of interest to a global China-watching community for which the SCMP has long been an important resource. Some of the world's best-known companies, most notably Facebook, are also debating what compromises they will make to enter a potentially lucrative market where an authoritarian regime can make or break their fortunes.
I should note that I began my journalistic career at the SCMP at the turn of the century. It was admittedly a long time ago, but the only instances of editorial interference or censorship I ever encountered over a six-year period were more comic than malicious.
On one occasion, word filtered back to the editorial floor that Mr Kuok, an Arsenal fan, was unhappy with the down-page placement of his favourite team's latest match report in the sports section. Another protocol-obsessed editor routinely ordered that any story involving China's then-vice-president, Hu Jintao, should not be given more prominence than a story involving President Jiang Zemin.
But if Mr Ma had any illusions that owning the SCMP would be easy, they probably dissipated last week. On April 5, Alibaba delivered on its promise to dismantle the SCMP's online paywall in an effort to increase the paper's readership. Not surprisingly, the SCMP decided to trumpet this new era and business model. It happened to do so on the same day that the names of several senior Chinese leaders whose relatives had opened offshore companies were revealed in the Panama Papers.
While the SCMP also ran stories about the Panama Papers, it soon found itself accused of burying them deliberately — an accusation the editors denied.
Like Mr Kuok before him, Mr Ma cannot win. Even if it is not his intention to do Beijing's bidding, he will always be suspected by some of doing just that. As the only English-language paper of record focused on China and operating in a free territory, the SCMP runs so many stories about the country — both positive and negative — that its critics and admirers can simply highlight those that prove their point about its alleged pro-China bias, or lack thereof.
Meanwhile, Beijing accepts nothing short of full capitulation when policing media outlets. In the eyes of China's censors, spinning stories a certain way or even burying them is not good enough. As of Tuesday, the SCMP's website was blocked in China.
Copyright The Financial Times Limited 2016. You may share using our article tools.
Please don't cut articles from FT.com and redistribute by email or post to the web.