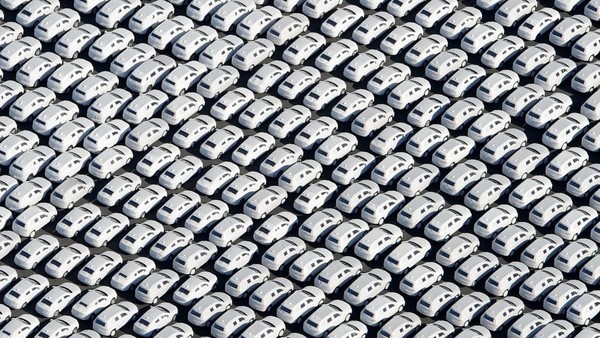 ©AFP
Volkswagen will buy back up to 480,000 cars in the US, it was announced on Thursday, as the German carmaker seeks to draw a line under the emissions scandal.
VW has agreed to purchase "most" of the cars that contained test-cheating defeat devices as part of a deal with US regulators outlined in a California court.
The final terms of the settlement, including the scale of the compensation for US car owners and the costs to VW, are still being negotiated but are expected to run into billions of dollars.
VW will also be required to commit funds to promote green automotive technology under the deal.
Analysts have estimated it will cost VW more than $ 6bn to buy back the 480,000 US cars.
Stuart Pearson, analyst at Exane BNP Paribas, said: "VW investors will be relieved to see a solution agreed [with US regulators]. It is not yet certain how many cars will be bought back . . . But this is almost certain to be the largest buyback in history."
US district court judge Charles R Breyer in San Francisco said at a hearing about the VW emissions affair: "There is a definite momentum to resolving these issues. There's still a lot of work to be done in terms of details and documentation."
He added: "I'm extremely pleased to report that the parties have come up with a concrete plan."
But the outline settlement between VW and US regulators, following months of negotiations, is far from the end of the affair for the company.
VW is still facing the prospect of lawsuits from customers and investors, and the final bill stemming from the scandal is expected by some analysts to run into the tens of billions of dollars.
In September it emerged that VW had installed software-based defeat devices in up to 11m cars globally that served to understate their emissions of harmful nitrogen oxides, or NOx.
Although VW reached agreement relatively quickly with European authorities on a fix for affected cars, the company has struggled to find a solution that would satisfy US regulators.
Some of VW's cars were found by the Washington-based Environmental Protection Agency to emit up to 40 times the permitted level of NOx in the US.
Offering to buy back cars in the US is likely to increase pressure on VW to offer a more generous compensation package to customers in Europe.
Although the company has starting recalling affected cars in Europe to fix them, it has not yet offered any compensation to customers who are braced to see the value of their vehicles reduced by the scandal.
VW's shares have fallen about 20 per cent since the scandal broke on September 18 last year.
The company will next week release its heavily delayed annual results, which will give an indication of the scale of the full cost of the affair.
VW has so far set aside €6.7bn, but some analysts estimate the final bill may exceed $ 50bn.
The findings of an investigation into the affair by Jones Day, a law firm hired by VW, are also due to be made public by the end of the month.
Copyright The Financial Times Limited 2016. You may share using our article tools.
Please don't cut articles from FT.com and redistribute by email or post to the web.