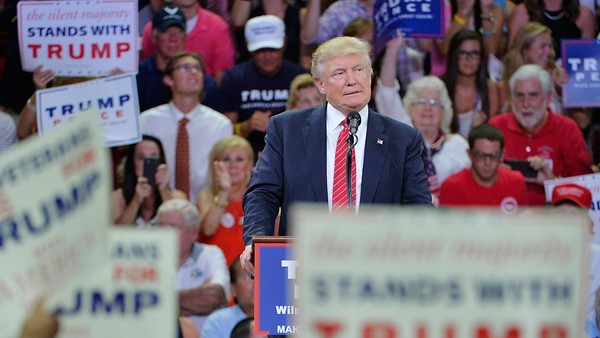 ©Getty
Donald Trump's attempt to reboot his campaign appeared to be stalling on Wednesday as polls showed the gap between him and Hillary Clinton widening and as a new controversy on the campaign trail provoked alarm among Republican leaders.
Mrs Clinton's lead over Mr Trump is now 7.7 points according to a compilation of national polls by RealClearPolitics, reversing the polling advantage Mr Trump enjoyed as recently as late July. One survey by Ipsos/Reuters showed 19 per cent of Republicans want Mr Trump to quit the campaign, while another revealed the businessman to be falling badly behind in the key state of Pennsylvania.
Alarm over his performance was heightened on Tuesday night after he made comments that prompted claims that he was inciting violence against Mrs Clinton.
Speaking in Wilmington, North Carolina, Mr Trump suggested that supporters of the Second Amendment, or the right to bear arms, might somehow be able to stop Mrs Clinton from appointing liberal justices to the Supreme Court were she to be elected.
"Hillary wants to abolish — essentially abolish the Second Amendment," Mr Trump told the crowd. "If she gets to pick her judges, [there is] nothing you can do folks. Although [for] the Second Amendment people maybe there is, I don't know. But I tell you what, that will be a horrible day if Hillary gets to put her judges [in]."
The comments distracted from Mr Trump's attempt on Monday to regain the political initiative by unveiling a more substantive economic platform, and were criticised by politicians from both sides of the aisle.
Retired General Michael Hayden, the former head of the CIA under George W Bush and Barack Obama, told CNN's Jake Tapper: "If someone else had said that outside the hall, he'd be in the back of the police wagon now with Secret Service questioning him." The Secret Service tweeted that it was "aware" of Mr Trump's remarks.
Mr Trump on Tuesday night said that his remarks had been misinterpreted by the media, while his campaign said he had really meant that all supporters of the Second Amendment should be unifying behind his campaign in order to defeat Mrs Clinton.
Rudy Giuliani, the former New York mayor and a Trump supporter, blamed the attention the story was getting on the "Clinton spin machine".
"We know that Donald Trump is not particularly indirect. If Donald Trump was going to say something like that, he'd say something like that," he told Good Morning America. "With a crowd like that, if that's what they thought he meant, they'd have gone wild."
Paul Ryan, the Republican House speaker who has been critical of Mr Trump in the past, said the GOP nominee's remarks sounded like "a joke gone bad" and hoped that Mr Trump would clear up the matter for good.
The controversy came just three days after Paul Manafort, Mr Trump's campaign manager, vowed that Mr Trump was now prepared to reset his campaign after a string of gaffes, beginning with his big economic speech in Detroit.
"[Mr Trump] is very focused. He knows what he needs to do. I am confident he is going to start doing it and eventually the media will start having to cover it," Mr Manafort told Fox News.
Larry Sabato, head of the University of Virginia's Center for Politics, said Mr Trumps' Second Amendment remark challenged Mr Manafort's claims of a campaign reset.
"Resets are like second or third marriages. It's the triumph of hope over experience. It's not going to work. You can't change his [Mr Trump's] DNA," he said.
Mrs Clinton faces her own controversies, such as continued questions over her use of a private email server and her relationship with foreign donors to the Clinton Foundation while she was secretary of state. But for now Mr Trump's largely self-created controversies seemed to be eclipsing them, Mr Sabato said.
"The Clintons have so much baggage. But they were given [an opponent] who redefined what baggage is."
New polling from Quinnipiac University shows Mrs Clinton's lead widening to 11 points in Pennsylvania and 5 points in Ohio. In Iowa, Mrs Clinton has a 4 point lead, according to an NBC-Wall Street Journal-Marist poll, while her campaign has begun investing in the Republican-leaning state of Georgia after an Atlanta Journal Constitution survey gave her a 7 point lead there.
Worryingly for Mr Trump, the business acumen that he has touted as a selling point for the presidency appears to be swaying fewer voters. A Bloomberg Politics poll on Wednesday showed that 61 per cent of voters had become less impressed by his business expertise over the course of the campaign, while only 31 per cent had become more impressed. The poll gave Mrs Clinton a six-point lead.
Norm Ornstein, a resident scholar at the American Enterprise Institute, said the question of whether to repudiate Mr Trump was likely to grow as a dilemma for Republican lawmakers, especially as prominent party members such as John Negroponte, a former top Bush administration official, begin endorsing Mrs Clinton.
"You have a lot of people who are scared to death about embracing him in a way that will alienate a slew of voters, or repudiating him in a way which will enrage his supporters," Mr Ornstein said, speaking before Mr Trump's new comments on the Second Amendment. For many it is a "really tough calculus. You will lose something either way."
Copyright The Financial Times Limited 2016. You may share using our article tools.
Please don't cut articles from FT.com and redistribute by email or post to the web.