©Getty
Donald Trump might garner 0 per cent of the African-American vote in the crucial swing states of Pennsylvania and Ohio in November's election, if the polls are correct.
He does not fare much better nationally, averaging about 1-2 per cent in recent surveys against more than 90 per cent for rival Hillary Clinton. He is doing far worse than Mitt Romney in 2012, when the Republicans' previous candidate won 6 per cent of the African-American vote against the nation's first black president. According to the Cook Political Report, black voters accounted for Barack Obama's margin of victory in seven important states in 2012.
In an increasingly diverse country, the Republican party knows that it needs to gain more black votes, not only to win in November but to be viable in the future. It acknowledged as much in a report on why Republicans lost the 2012 election, which laid out a comprehensive plan to reach out to minorities and women.
"The Republican party must be committed to building a lasting relationship within the African-American community year-round, based on mutual respect and with a spirit of caring," the report said.
Four years later, the party's standard-bearer has refused invitations to speak to black civic groups and has yet to hold a single event catering to black voters. Trump rallies have featured black protesters being physically assaulted and verbally abused by his supporters, while he has repeatedly retweeted posts from white supremacists. David Duke, the former leader of the Ku Klux Klan, said he was inspired to launch a bid for the Senate because Mr Trump won the Republican nomination.
"We've seen a number of explicitly and outwardly racist and bigoted individuals who have said: 'I feel much more comfortable expressing my views now that Donald Trump is at the top of the ticket'," said Leah Wright Rigueur, an assistant professor at Harvard University who wrote a book on black Republicans.
"[This] alienates even the most conservative of African-Americans away from the Republican party."
Telly Lovelace, head of African-American initiatives at the Republican National Committee, which recently announced three high-profile hires for black outreach, said the party is acting on the 2012 report's recommendations. "You're going to see us showing up, building relationships in the community . . . as we look at not just this election but beyond," he said.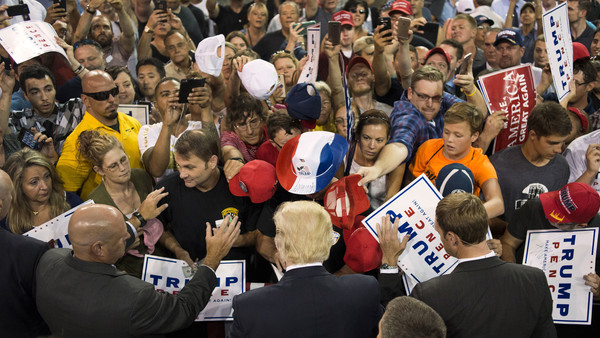 ©Bloomberg
The Trump campaign did not respond to multiple requests for comment. Mr Trump rejects criticism that his rhetoric or policies are racist. The campaign last month named Omarosa Manigault, a former contestant on Mr Trump's reality TV show, as its director of African-American outreach.
Henry Childs, who is black, is a member of Mr Trump's National Diversity Coalition. "Trump's numbers are the lowest I've ever seen [because] some of his rhetoric has rubbed black people the wrong way," he said.
We've

seen a number of explicitly and outwardly racist and bigoted individuals who have said: 'I feel much more comfortable expressing my views now that Donald Trump is at the top of the

ticket'
– Leah Wright Rigueur, Harvard University
"I think the goal of the campaign is to double back on some of the things he's said . . . and [to explain] why his policies would benefit the African-American community. But you have to address the fact that people think you are racist. I think the campaign realises that there's no path to victory if we get 1 per cent of the black vote."
Over the past week, Mr Trump has begun to address black voters directly from the campaign stage, asking for their support. "You're living in poverty. Your schools are no good. You have no jobs; 58 per cent of your youth is unemployed. What the hell do you have to lose?" he said in Michigan on Friday.
He made a similar appeal earlier in the week in West Bend, Wisconsin, arguing that Democrats and Mrs Clinton had "failed and betrayed" black people and taken their votes for granted.
But West Bend was an odd place to deliver this appeal. It is 95 per cent white, 1 per cent black and 40 miles north of Milwaukee, where the police shooting of a black man set off protests last week. One of Mr Trump's warm-up speakers was Republican Congressman Glenn Grothman, who opposes the Martin Luther King Jr holiday for state workers. The crowd was, as in Michigan, "almost entirely devoid of minorities", according to CBS News.
Walking down Flatbush Avenue in Brooklyn last week, Arthur Edwards said these racial undertones and a seeming indifference to black issues accounted for Mr Trump's low marks with his community.
"He's made no effort to reach out to African-Americans — zero effort," said the 52-year-old attorney. "And he's demeaned black folks for a very long time."
Mr Edwards stood in front of the Patio Gardens apartment complex, a symbol of Mr Trump's fraught history with the black community. In 1973, the Department of Justice sued him and his father, Fred, for alleged discrimination in their New York apartment complexes by directing blacks and Latinos away from majority-white buildings and towards those populated by minorities, including Patio Gardens. The Trumps settled without admitting guilt.
His more recent xenophobic comments on Mexicans and Muslims — in the US, more than a quarter are black — have also told "blacks that this isn't a guy you want to support", said Elijah Anderson, a Yale professor and urban ethnographer.
Mr Trump's leadership of the so-called birther movement, arguing that Mr Obama was not born in the US — and his contention that the president could not have gained admission to Harvard Law School legitimately — launched his political ascendancy among Republicans. It also may have irreversibly sullied his reputation among blacks, said Mr Anderson.
"People sensed that as being not only anti-Obama but anti-black, so he squandered any kind of support he could ever have had with black people," he said.
Back in Flatbush, a woman in an abaya towed two children out of the Patio Gardens gate. A Hispanic family entered the other side and two black men walked out to have a cigarette.
Asked whether black voters would turn out for Mrs Clinton, Robert Dennison, 50, pointed up and down Flatbush Avenue, where a diverse Brooklyn crowd was out and about.
"Down here it's a straight landslide for Hillary."
Copyright The Financial Times Limited 2016. You may share using our article tools.
Please don't cut articles from FT.com and redistribute by email or post to the web.