©AFP
Tuesday 09:00 BST. Tensions ahead of important central bank meetings this week are bolstering perceived havens like gold, Treasuries and the yen, while keeping stocks in check.
Wariness over the prospects for oil prices are also damping risk appetite in the session, which finishes with Apple announcing its results after Wall Street's closing bell.
The iPhone-maker's falling share price contributed to the S&P 500 on Monday pulling back 6.5 points from its record high.
And index futures suggest the US equity barometer will dip an additional 3 points to 2,165.5 at the start of Tuesday's trading, its retreat so far helping suppress any global stock market bullishness.
The pan-European Stoxx 600 is down 0.5 per cent as Commerzbank leads a fall in banking stocks after the German lender warned on its capital position. Energy groups are falling as Brent crude slips 0.2 per cent to $ 44.62 a barrel, its cheapest in 10 weeks amid lingering oversupply concerns.
Investors are also nervously eyeing a 1.4 per cent fall for Japan's Nikkei 225 stock average after a surging yen hurt shares of exporters.
The dollar is down 1.5 per cent to ¥104.14 as some traders appear worried that the Bank of Japan on Friday may not loosen monetary policy as much as they had hoped.
"The yen has edged a little bit higher against the [dollar] . . . probably reflecting a little bit of uncertainty on the magnitude of the expected fiscal and monetary stimulus due to be announced" by the BoJ, said Rodrigo Catril, currency strategist at National Australia Bank.
Indeed, Taro Aso, Japan's finance minister, at a news conference in Tokyo, said that the government was yet to make a final decision on the size of a recently-announced fiscal stimulus package. The package is expected to run into the trillions of yen, with more specific details expected next week.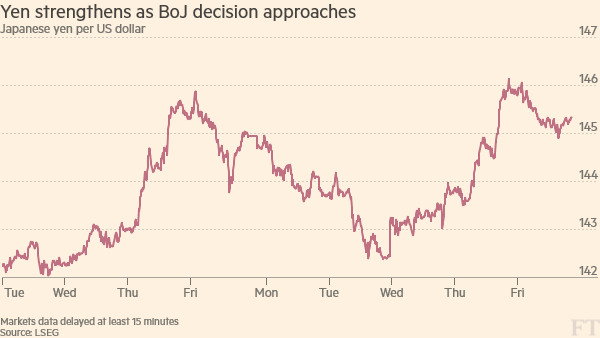 Despite the yen strength on Tuesday, market watchers of late have been focusing on the diverging policies of the Federal Reserve and the Bank of Japan, with recent encouraging US data prompting investors to re-rate the prospects of the US central bank raising borrowing costs later this year, although they expect it to stand pat on Wednesday.
The dollar index, a measure of the US currency against a basket of global peers, on Monday hit a four-month intraday high of 97.57, but is currently 0.3 per cent softer at 97.00 as the euro gains 0.2 per cent to $ 1.1007.
Sterling is down 0.5 per cent to $ 1.3080 and the 10-year gilt yield is off 4 basis points to 0.77 per cent after Bank of England policy-setter Martin Weale said recent poor data had caused him to now favour additional stimulus for the UK economy.
There are other signs of a flight to safety, with yields (which move inversely to price) on the 10-year US Treasury falling 3bp to 1.54 per cent. Equivalent maturity German Bunds and Japanese government bonds are off 1bp apiece to minus 0.05 per cent and minus 0.25 per cent, respectively.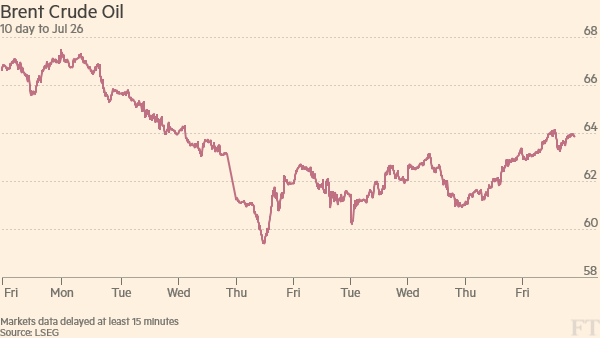 Gold, which fell back after hit a two-year high of $ 1,375 an ounce a couple of weeks ago, is recovering $ 6 to $ 1,321.
In contrast to the sharp falls in Japan, greater China bourses were pretty chipper, with analysts scratching around for a catalysts to explain the move. Hong Kong's Hang Seng added 0.6 per cent and the Shanghai Composite rose 1.1 per cent as industrials and financials saw buyers.
Additional reporting by Peter Wells in Hong Kong
For market updates and comment follow us on Twitter @FTMarkets
Copyright The Financial Times Limited 2016. You may share using our article tools.
Please don't cut articles from FT.com and redistribute by email or post to the web.