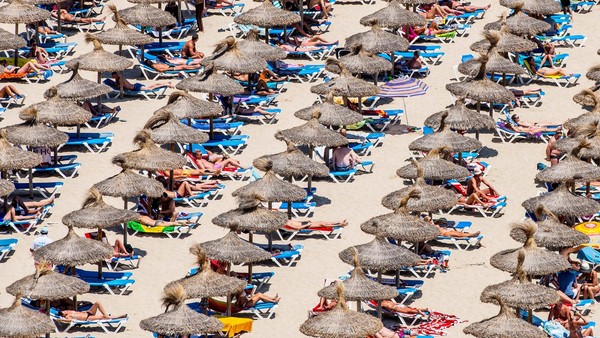 ©Getty
Unemployment in Spain fell to its lowest level for seven years last month as a booming tourism sector helped cut the number of jobless by almost 84,000.
Figures for July, published by the labour ministry on Tuesday, showed the number of registered unemployed fell by 2.23 per cent compared with the previous month, leaving 3.68m Spaniards without work. The decline was the largest recorded in the month of July since 1997.
The numbers are further evidence that the Spanish economy is enjoying a steady recovery. Last week, Spain's acting government revised its gross domestic product forecast for this year, predicting that the economy would grow by 2.9 per cent rather than the 2.7 per cent previously suggested.
That revision was followed by second-quarter unemployment figures, which showed that while 20 per cent of Spaniards are still without a job, the level is at its lowest since 2010.
While joblessness remains stubbornly high — only Greece has proportionally more people out of work in the EU — the figures beat expectations and come despite political uncertainty, with Spain's political parties still locked in a now seven-month struggle to form a new government after two inconclusive general elections since December.
"The figures do show that generally the unemployment picture in Spain is improving," said Stephen Brown, European economist at Capital Economics. But, he cautioned, "it is worrying to see the extent to which tourism has given a boost to the numbers this year. As that fades in the autumn, and with what we think are inevitable spending cuts, there will be more pressure on jobs down the line."
Tourism has played a big part in the improving unemployment statistics. Figures published last week showed the number of foreign visitors to Spain was up 12 per cent in the first half of 2016, with the rise attributed to good weather and holidaymakers shying away from resorts in north Africa and Turkey over terrorism fears.
The number of registered jobless in the service sector, which includes hotel, bar and restaurant staff, fell last month by 51,275. The figures also showed that almost all industries recorded a decline in unemployment. Many of the jobs created in recent years are poorly paid, short-term contracts, however.
"There is some evidence of wage growth," said Mr Brown. "The technology and communications sectors are among several pockets of strength, but this is concentrated for now in the big cities."
Cutting unemployment has been one of the key areas of negotiation between Spain's political parties. The caretaker government of the centre-right Popular party, led by Prime Minister Mariano Rajoy, has lauded Spain's return to economic stability since it came to power in 2011, despite losing its majority in last December's general election.
Mr Rajoy and Pedro Sanchez, leader of the socialist PSOE, Spain's second-biggest party, met on Tuesday morning but failed to find a way through the political impasse.
Copyright The Financial Times Limited 2016. You may share using our article tools.
Please don't cut articles from FT.com and redistribute by email or post to the web.