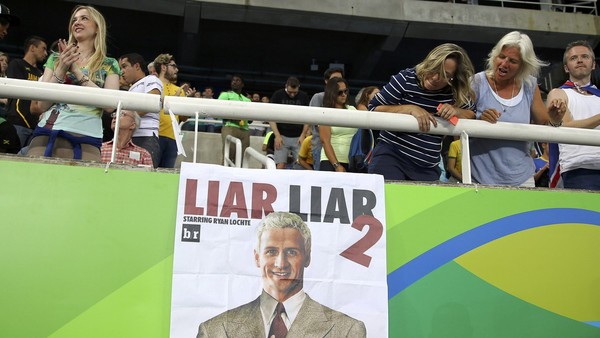 ©Reuters
At a press conference this week on the alleged robbery of a group of US swimmers, Fernando da Silva Veloso was told his investigation into the incident was being portrayed as a circus by a lawyer for one of the athletes. 
Pointing to his face, Rio de Janeiro's angry civil police chief responded: "Do you see a clown nose here?" 
The deadly seriousness with which Rio police have treated the investigation into claims by Ryan Lochte, the multiple Olympic gold medallist, that he and three teammates were robbed at gunpoint by men posing as law enforcement officers might have caught the swimmers unawares. 
After all, Brazil's reputation is as a country where in legal terms virtually anything goes — armed assaults are commonplace, politicians act with impunity and even some of the biggest companies get caught paying bribes. 
But such stereotypes underestimate the complexity of a country that can often catch foreigners, whether they be Olympic swimmers or the heads of multinational corporations, by surprise.
Indeed, such is the difficulty of navigating Brazil's sharp social divides, complicated political system and labyrinthine laws and social norms, that Brazilians often cite a saying that is attributed to the country's great composer, Tom Jobim: "Brazil is not a country for beginners." 
Mr Lochte's alleged robbery was an enormous embarrassment for Rio police, who have mounted one of the country's biggest security campaigns to ensure a safe Olympics, with 85,000 soldiers and officers on the streets. 
But police revelations on Thursday that the swimmers made up the robbery story to cover up a drunken altercation at a petrol station on their way home from a club turned this embarrassment into outrage among Brazilians. 
Bystanders booed and hissed two of the swimmers, Gunnar Bentz and Jack Conger, as they left a police station in Rio on Thursday after giving evidence, with one man shouting "Liars!" and banging on their car. 
"It shows a colonial view of Brazil as a country that is not serious, a 'banana republic' where they can do whatever they want," says Rafael Alcadipani, an academic at the Getulio Vargas Foundation (FGV), of why the Americans' attitude was so offensive for Brazilians. "It comes across as very arrogant — I doubt they would have lied to the American police in the same way."
In Brazil, #Lochtegate was one of the top 10 trending topics on Twitter on Thursday night. 
©Reuters
Some Brazilians on the social network even drew parallels between the swimmers' actions and US foreign policy. "They arrive in somebody else's country, mess up, blame the natives and then flee."
If the police are proved right, Mr Lochte would not be the only foreigner to have misread the effectiveness of Brazil's legal system. One of the other big stories of the Olympics is the arrest of Irish Olympic committee head Pat Hickey for an alleged illegal ticketing scam. 
In a sign of how quickly things can change in a dynamic emerging country, Brazilian police, judges and prosecutors have over the past few years become extremely effective in unravelling complex criminal conspiracies, analysts say. 
Using wiretaps, closed circuit television and forensic analysis of cell phones, social media and email messages, coupled with sophisticated interrogation techniques involving plea bargains, police and prosecutors cracked the country's biggest corruption scandal, involving state-owned oil company Petrobras. 
A host of foreign companies have been implicated in the scandal for using agents who allegedly paid bribes to win Petrobras contracts. This comes amid another scandal, "Zelotes", in which investigators are showing that companies, including foreign ones, paid off tax officials to avoid fines. 
Unlike many Brazilians, who have political contacts and often employ jeitinhos — shortcuts around the system — to try to escape the worst consequences of wrongdoing, foreigners are usually left to face the full force of the law. 
However, that will not stop a constant stream of hapless foreigners from continuing to run into trouble when they come to Brazil in the mistaken belief they will not get caught. 
Two German tourists summed up the blasé attitude when they were arrested during the World Cup in Brazil in 2014 after trying to steal a bronze statue from São Paulo's international airport as a "souvenir". 
Dressed in German colours, the pair plucked the sculpture from its pedestal in broad daylight, put it in one of their suitcases and checked it in before cheerfully going for beers at one of the airport bars. 
Guards watching the act on security cameras arrested them before they could board their flight. 
Copyright The Financial Times Limited 2016. You may share using our article tools.
Please don't cut articles from FT.com and redistribute by email or post to the web.