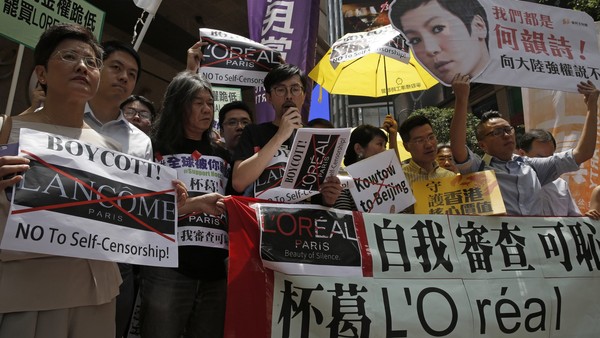 ©AP
French cosmetics group L'Oréal closed stores across Hong Kong on Wednesday as protesters accused it of "kowtowing" to China by cancelling a marketing event featuring a local singer who supports the democracy movement in the semi-autonomous city.
Several politicians and dozens of protesters demonstrated outside the company's offices at the Times Square shopping mall in Causeway Bay, a major Hong Kong shopping district, holding banners calling for a boycott of L'Oréal and no "kowtow to Beijing".
They were angered by a decision by Lancôme, a L'Oréal-owned luxury skincare brand, to cancel a concert featuring Denise Ho, a popular Hong Kong singer, after it was criticised by the Global Times, a nationalistic, state-owned tabloid in China.
There is a growing backlash in Hong Kong against interference by Beijing, which agreed in 1997 to guarantee the city's autonomy and freedoms for 50 years.
The L'Oréal incident underlines the difficulties facing multinational companies in China, where there is intense pressure not to upset the sensitivities of an increasingly censorious Communist leadership.
Internet companies such as Google and Twitter that have refused to submit to Chinese censorship have been blocked.
The Chinese government also regularly bans artists, academics and political leaders from going to China if they are seen as opposing Beijing or supporting outlawed causes such as the Taiwanese and Tibetan separatist movements.
China is L'Oréal's second-biggest market and one of its biggest targets for expansion, with like-for-like sales growing 3.2 per cent last year.
Protesters in Hong Kong, one of the world's largest markets for luxury goods, accused the company of selling out its principles in order to maintain access to lucrative Chinese consumers.
Ms Ho is known locally for her anti-Beijing stance and was arrested by Hong Kong police in 2014 as they cleared the main protest site in the city's pro-democracy Occupy protests.
In May she posted a picture to Facebook of herself with the Dalai Lama, the Tibetan religious leader opposed by Beijing, referring to him to as "my most respected teacher".
Ms Ho said the company's cancellation and statements had "misled the public and jeopardised my personal reputation". She accused the company of engaging in "self-censorship" and kneeling before "a bullying hegemony".
The League of Social Democrats, a small Hong Kong political party that helped organise the protest on Wednesday, said L'Oréal's decision to drop Ms Ho was just the "tip of the iceberg", with many other artists silenced for supporting democracy.
In January a teenage Taiwanese singer in a successful South Korean pop group was pressed by her managers to apologise for offending Chinese fans after she waved the Taiwan flag, sparking an online backlash in China.
A commentary published in the Global Times welcomed L'Oréal's move to cancel the concert, which was meant to promote the Lancôme cosmetics brand.
"Evidently Lancôme prefers to look after the public mood in the mainland," it said. "The reason is simple enough: the mainland market is several times the size of the Hong Kong market."
Lancôme said on Sunday it had called off the event because of "possible safety reasons".
L'Oréal did not immediately respond to a request for comment.
Copyright The Financial Times Limited 2016. You may share using our article tools.
Please don't cut articles from FT.com and redistribute by email or post to the web.