©Getty
Shares in Metro jumped more than 10 per cent on Wednesday morning after the German retail conglomerate revealed plans to split itself into two companies that will be separately listed on the stock market.
One will focus on food, while the other will specialise in consumer electronics. Each company will have its own management and supervisory board, said Metro.
The separation is chief executive Olaf Koch's boldest strategic move as he seeks to reinvigorate the Düsseldorf-based group, which has struggled with falling sales and high levels of debt in recent years.
Mr Koch has pushed through a number of disposals including the sale of Metro's Vietnamese cash and carry business in 2014 and its Galeria Kaufhof network of department stores last year. The company said that this streamlining had paved the way for the intended split.
"The creation of two independent companies would be the logical next step in the transformation of our business," said Mr Koch in a statement.
Metro said there was little overlap between the food and electronics businesses and argued that the split, which is planned for mid-2017, would allow each group to grow faster and develop its own dealmaking strategy.
Analysts at Bernstein said that the planned division was a "positive move".
"There were limited synergies between the two businesses and a conglomerate discount which can now unwind," they wrote.
The split, which must be approved by shareholders, would be carried out by spinning off Metro's dominant cash-and-carry business along with its Real Hypermarket chain into a new company, which would be headed by Mr Koch.
The remaining business, housing the Media-Saturn chain, would be renamed and run by Pieter Haas, who runs Media-Saturn. Metro shareholders would receive shares in both companies.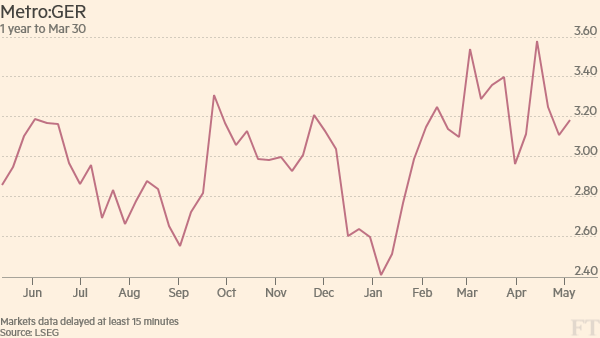 The Bernstein analysts said they believed the deal had been structured in this way to avoid a tussle with Erich Kellerhals, who founded and still owns 22 per cent of Media-Saturn, and has had several run-ins with Metro over its strategy.
The prior battles "would make road-showing the consumer electronics business difficult, whereas selling off the cash and carry business will be a more attractive option to new shareholders," they wrote.
Between them, the Real hypermarket chain and the cash-and-carry businesses accounted for 63 per cent of Metro's sales in its 2014/15 financial year. Media-Saturn brought in 37 per cent of its sales.
If Metro's debt is spun out with the food business, Bernstein expects that unit to have an enterprise value of €11.5bn, while the electronics group would have an enterprise value of around €4bn.
Metro said that its three biggest investors — Haniel, Schmidt-Ruthenbeck and Beisheim — were in favour of the plan.
Copyright The Financial Times Limited 2016. You may share using our article tools.
Please don't cut articles from FT.com and redistribute by email or post to the web.