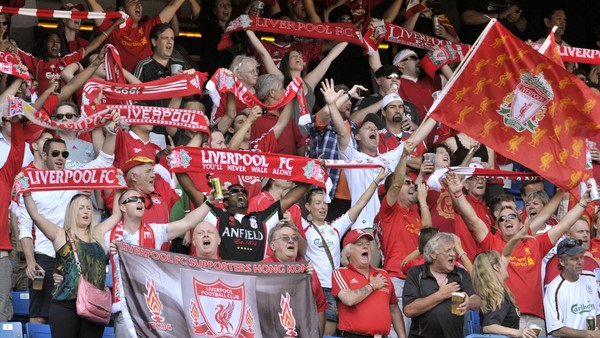 ©Reuters
The US owners of Liverpool FC have appointed financial advisers after an unsolicited approach by a consortium led by a Chinese investment firm Everbright and PCP Capital Partners, the private equity firm founded by Amanda Staveley.
Fenway Sports Group, led by John W Henry, have hired Allen & Co, the boutique investment bank, to advise on discussions over the acquisition of a substantial stake in one of England's most storied football clubs, people close to the talks have told the Financial Times.
While the precise size and valuation of any deal under discussion is unclear, the consortium is understood to be interested in buying a large stake in the club, the people added. The consortium is structured as a partnership between Everbright, a Chinese state-owned financial conglomerate, and Ms Staveley's PCP. They are being advised by Silk Road Finance.
If a deal is agreed, it would be the most significant transaction in a long list of investments from China in European football clubs and comes as President Xi Jinping wants to elevate the status of football in China.
Earlier this week, Liverpool FC chairman Tom Werner insisted to local media that the club was not for sale. However, the FT has learnt that the approach by the consortium is being taken seriously by Fenway Sports, which also owns the Boston Red Sox, the US major league baseball team.
Ian Ayre, chief executive of Liverpool FC, said: "We have no comment. There is no bid and we have no ongoing investment discussion of any kind with anyone." Fenway Sports could not immediately be reached for comment. Ms Staveley declined to comment.
According to Deloitte, Liverpool is the world's ninth richest club by revenues, with a turnover of €391.8m during the 2014/15 season. Its revenues are set to rise this season, as all Premier League clubs will benefit of the first year of Premier League's record £5.1bn television deal with Sky and BT.
The lucrative media rights deal has drawn a number of international investors to Premier League clubs in recent month as well as the opportunity to push clubs in Asia, particularly China.
English Premier League side West Bromwich Albion was acquired this month by Guochuan Lai, a 42-year-old Chinese businessman. In December, a Chinese consortium led by private equity groups China Media Capital and CITIC Capital paid $ 400m for the stake in City Football Group, the parent company of Manchester City, which is owned by Sheikh Mansour bin Zayed al Nahyan of Abu Dhabi. Ms Staveley advised the sheikh when he bought the club over eight years ago.
Everbright, meanwhile, alongside a Chinese media company, bought a more than 60 per cent stake in MP & Silva, the Italian sports rights company, in a deal that valued it at just over $ 1bn.
In 2010, Liverpool was acquired for £300m by New England Sports Ventures — subsequently renamed Fenway Sports Group — following a legal fight over the sale with previous owners Tom Hicks and George Gillett.
Mr Henry's ambition was to re-establish one of England's most illustrious clubs to the top of the sport. But under his leadership, the club has only once qualified for the Uefa Champions League, Europe's most prestigious competition that features the continent's top teams.
Under Fenway Sport's ownership, Liverpool came close to winning the English Premier League the 2013/14 season, ultimately slipping to second place.
After a disappointing start to last season, the club replaced Welsh manager Brendan Rodgers with former Borussia Dortmund coach Jürgen Klopp. Under the command of its new German manager, the team reached the Europa League final, but lost to Sevilla, which meant the club failed to qualify for the Champions League.
Sky News earlier reported on the Chinese approach.
Copyright The Financial Times Limited 2016. You may share using our article tools.
Please don't cut articles from FT.com and redistribute by email or post to the web.