Dutch airline KLM on Thursday lashed out at its partner Air France for allowing a "destructive strike" this weekend that threatens to disrupt travel to France during the Euro 2016 football championship.
KLM, which in 2004 combined with Air France to form the Air France-KLM group, said that the planned strike by French pilots will be a "major inconvenience" for customers that will "damage the reputation of the entire group".
The Dutch company added that it "hopes sincerely that [Air France and the trade unions] will arrive at a solution that prevents such a destructive strike".
Intense talks between Air France pilots' unions and senior management appear to have broken down, however, with the company on Thursday saying it expected to cancel 20 to 30 per cent of flights on Saturday.
Frédéric Gagey, chief executive of Air France, said that the company offered a new proposal in a long-running dispute over pay and working conditions, but unions rejected it. He added that the four-day walkout would cost the airline about €5m a day.
Pilots have for years been resisting efforts by Air France to restore the company's profitability through job cuts and pay freezes, objecting as well to proposals to expand the company's low-cost operations.
Air France-KLM, which reported its first profit in six years in 2015, has been under severe pressure from fast-expanding Middle East carriers including Emirates and European budget airlines such as easyJet.
Air France pilots have gone ahead with strikes before, carrying out a 14-day walkout in 2014 that cost the group nearly €500m and ranked as the worst industrial dispute in its history.
Relations between unions and management reached a fresh low last year when after a tense employee meeting the Air France human resources director was descended on by an angry mob who tore off his shirt.
Jean-Marc Janaillac, who last month was named as Air France-KLM's new chief executive, has been tasked with attempting to improve relations with unions while also securing reforms.
The planned strike comes at a difficult time for France, which on Friday begins hosting the Euro 2016 football championship. The event is expected to attract 1.5m visitors over the coming month.
Mr Gagey said he would attempt to ensure minimal disruption to flights serving cities hosting football matches. "Of course, we'll look after the Euro tournament," he added.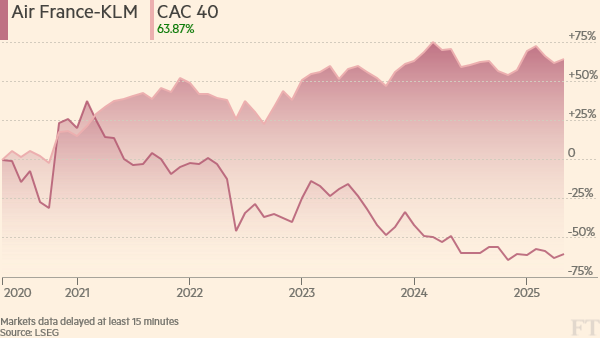 If the strike goes ahead as planned, it will not be the only disruption. There has been intense industrial action in France in recent weeks over the government's attempts to introduce greater flexibility into labour practices.
Rail workers have been holding on-off strikes for several months. A strike by garbage collectors has left rubbish piling up around Paris this week. Workers at many of France's refineries are still on strike.
Copyright The Financial Times Limited 2016. You may share using our article tools.
Please don't cut articles from FT.com and redistribute by email or post to the web.