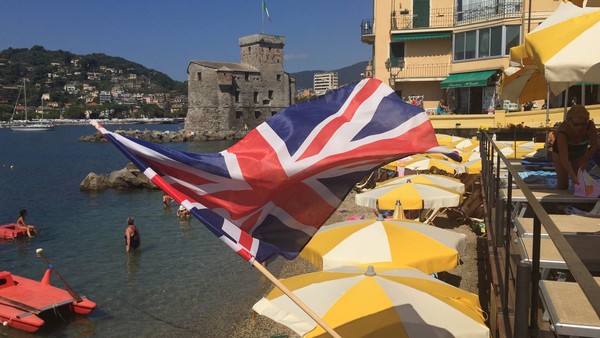 Mauro Tubino, owner of a beach concession in Liguria, has hoisted the British flag to draw attention to his 10-year campaign against an EU law that would open his sector to international competition.
Inspired by the UK's vote to leave the EU , Mr Tubino, 62, is one of seven concession holders in Rapallo, about 20 miles east of Genoa, flying the Union Jack as a signal of defiance against Brussels. Hundreds more have done the same this week along the Italian Riviera.
"We are using it as a protest against Europe, this Europe which wants to send us packing," says Mr Tubino, who runs the Flora & Lido beach property.
He and many of his colleagues say the 2006 EU law, named after Frits Bolkestein, a former internal markets commissioner, will drive them out of business. The Italian government has sought to delay the application of the measure until 2020, but a ruling last month by the European Court of Justice said Rome must now comply.
Ferruccio Ferri, a lifeguard in Rapallo, says: "Many of us will end up on the street. England didn't break away for no reason. We put the flag up because if Italy were out of Europe, we wouldn't have these problems."
The adoption of the British flag as a sign of protest by the resorts highlights how anti-EU movements and their supporters have seized on the UK's June referendum to bolster their case.
In Italy, the Eurosceptic Five Star Movement and Northern League jointly have garnered more than 40 per cent of the vote, according to the latest opinion polls. But a large majority of Italians still want to remain in the EU and in the eurozone despite misgivings about some policies, according to a survey by Tecnè taken after the June 23 Brexit vote. 
The protest by the Rapallo operators could be ignored. Pervasive rent-seeking and a lack of competition in many sectors are seen as some of the biggest impediments to Italy's growth because they distort economic activity.
Vinicia and Massimo, a couple in their sixties sunbathing in Rapallo, have little sympathy for the beach operators. "The concessions can be managed for over 20 years by the same people who can do whatever they want without asking anyone's permission", says Vinicia. 
But Carlo Bagnasco, the centre-right mayor of the town, dismisses such arguments and plans to join a march in Rome in September to keep the battle alive. "We have to consider that our territory is very peculiar: we have a lot of family businesses," he says. "What if a large multinational company decides to buy the whole Riviera?"
Copyright The Financial Times Limited 2016. You may share using our article tools.
Please don't cut articles from FT.com and redistribute by email or post to the web.