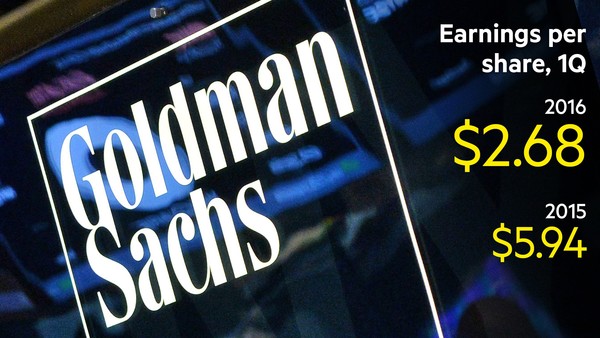 ©EPA
Goldman Sachs posted a 56 per cent decline in net income after across-the-board falls in revenues, bringing down the curtain on a sombre first-quarter earnings season for the big US banks.
Earnings per share came to $ 2.68 — well off the $ 5.94 Goldman had earned in the same period a year ago.
Analysts had expected earnings to be even worse at $ 2.45 a share. Revenues were expected to come in at $ 6.73bn, a big drop from the $ 10.6bn the Wall Street firm posted in the bumper first quarter of 2015, but instead were $ 6.4bn, with each of Goldman's four core units showing double-digit falls from a year earlier.
Lloyd Blankfein, chairman and chief executive, said that "the operating environment this quarter presented a broad range of challenges, resulting in headwinds across virtually every one of our businesses".
The consensus-beating result completes a clean sweep among the six biggest US banks, following better than expected results from JPMorgan Chase, Bank of America, Wells Fargo, Citigroup and Morgan Stanley in recent days.
The results close the books on a rough quarter. The opening period is often the busiest for investment banking units, as corporate finance advisers work through seasonal backlogs and institutional investors put on big trades for the year. Over the past decade Goldman has earned an average of 30 per cent of its full-year revenues during the opening period.
Yet this year fears over China and global growth got things off to a very rocky start, and banks have struggled to make up lost ground. On Monday Morgan Stanley announced that its first-quarter profit more than halved to $ 1.1bn, on revenues 21 per cent weaker at $ 7.8bn.
James Gorman, Morgan Stanley's chairman and chief executive, struck a subdued tone in his commentary on the numbers, saying that the period had been marked by "challenging market conditions and muted client activity". He kept end-2017 profit targets intact, saying that if revenues remained depressed, the bank would have to be "much more aggressive on the costs front".
In recent months Goldman, too, has talked a lot about trimming the cost base. "You can always do more," Mr Blankfein told an industry conference in February. "I mean, necessity really is the mother of invention in this case, especially when you have to deliver return."
Goldman's annualised return on equity during the period came to 6.4 per cent, well short of its double-digit target.
Copyright The Financial Times Limited 2016. You may share using our article tools.
Please don't cut articles from FT.com and redistribute by email or post to the web.