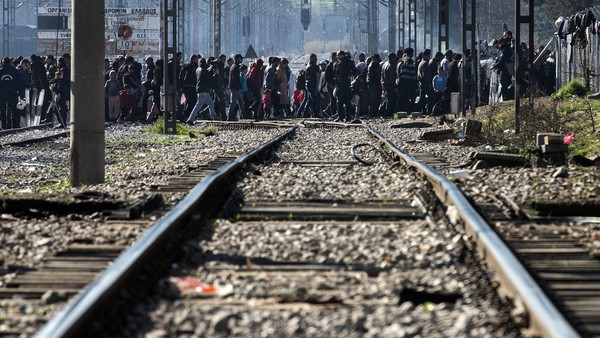 ©EPA
Europe's relations with neighbouring countries are to be reset around the overriding goal of stemming migration and backed by as much as €60bn in funding, according to a "partnership framework" proposed by Brussels.
The strategy paper, seen by the Financial Times, represents the EU's latest attempt to better focus its diplomatic and economic clout with countries at the front lines of its migration crisis, including Tunisia, Jordan, Lebanon, Niger and Ethiopia. 
As well as making migration control the central priority in these relationships — and a possible reason for denying trade benefits or visa privileges — the European Commission will revamp its financial armory to channel funds to related projects. 
To that extent, the "partnership frameworks" take the EU-Turkey migration deal, which hinged on stopping migration but involved much wider benefits for Ankara, as a template for relations with north and Sub-Saharan Africa and the Near East. 
On the financial side, the Commission initially plans to pull together and retarget around €8bn over the next four years from various existing EU funds, including pots used for development and Africa, and for supporting neighbouring countries in financial straits.
This would be reinforced over the long term by establishing a "European External Investment Fund", aiming to raise around €60bn of mainly private money for public works and infrastructure projects that help tackle the "root causes" of migration. 
Discussions continue about some details in Tuesday's Commission announcement and full details of the fund will be outlined in a proposal this autumn. But officials are considering a model where the EU provides seed capital of around €3.1bn, which would be matched by member states. 
Applying guarantees and financial engineering techniques used in the €315bn "investment plan for Europe", the Commission could prod private investment into projects worth around €60bn. The exact leverage ratio is still being debated. 
One of the hardest policy issues remains convincing countries to accept the return of economic migrants or even refugees — an area where discussions to date have shown a "gap between expectations and results", according to the draft paper. 
The Commission paper states EU and members states should combine their influence and power to negotiate tailored "compacts" on migration, including financial and political sweeteners. 
"This means, for each partner country, the development of a mix of positive and negative incentives, the use of which should be governed by a clear understanding that the overall relationship between the EU and that country will be guided in particular by the ability and willingness of that country to co-operate on migration management," the paper states. 
Critics of the policy fear migration concerns will trump humanitarian aid needs, human rights priorities, and distort economic relations with neighbours whose stability is in the vital interests of Europe. 
The Commission states such "compacts" are to be concluded with Jordan, Lebanon and Tunisia as a priority. Talks will be launched with Niger, Nigeria, Senegal, Mali and Ethiopia. Libya is also mentioned, but the fragility of its new unity government has tempered hopes on agreeing a migration pact. 
Experts noted that past attempts to address migration — such as last year's Valletta summit with African leaders — have struggled to make headway. 
"The idea of partnerships on migration is not new. What has changed is the money and the political backing," said Elizabeth Collett of the Migration Policy Institute. "But that does not necessarily mean that countries will buy into the idea — we need to understand what they need and want. Europe may not have learnt its lessons."
Copyright The Financial Times Limited 2016. You may share using our article tools.
Please don't cut articles from FT.com and redistribute by email or post to the web.