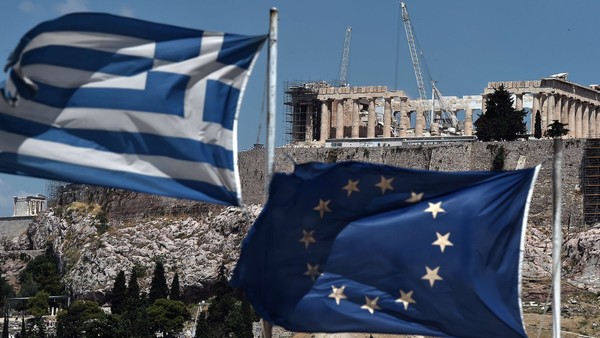 ©AFP
Greece's warring creditors will attempt to bridge their differences at a meeting of eurozone finance ministers Monday amidst mounting concerns Athens' €86bn third bailout is already headed for crisis.
The EU and the International Monetary Fund are at loggerheads over the strength of reform measures Athens must adopt to complete the rescue's first quarterly review, which must be closed before the eurozone will consider the politically combustible issue of granting Greece debt relief.
Without the acquiescence of the IMF, which has not formally signed onto the third bailout yet, the entire rescue risks falling apart since a German-led group of creditor countries have insisted they cannot approve EU bailout funds without IMF participation.
"Will the IMF be in or out?" asked one senior eurozone official involved in the talks. "Many European governments insist that this is unthinkable without the IMF – but the IMF is well aware that it is in the best bargaining position one could wish to be in."
Under the terms of last year's bailout agreement, Greece must adopt reform measures that will produce a primary surplus of 3.5 per cent of economic output by 2018. A country's primary budget is its revenues and expenses when debt payments are not counted.
The dispute centres on what Athens needs to do to get to the 3.5 per cent surplus, with Brussels insisting Alexis Tsipras, the Greek prime minister, is committed to implementing reforms that will hit the target, but the IMF believes many of the measures agreed are vague and do not add up.
In recent weeks, the standoff has turned increasingly nasty, with IMF and European Commission officials trading accusations during last month's finance ministerial meeting in Brussels. More recently, IMF and Greek representatives got into a heated exchange at a gathering of deputies last week.
In an effort to clear the air, senior officials from all three bailout monitors – Poul Thomsen, head of the IMF's Europe department; Benoit Coeuré, the European Central Bank governor responsible for Brussels issues; and Marco Buti, director of the EU commission's economics department – gathered in Brussels for a dinner Wednesday night at which an agreement was reached to try to mend differences before Monday's meeting.
But officials said the two sides remain far apart and the only solution may be to send bailout negotiators back to Athens next week with an agreed list of reforms – even if they cannot agree on whether the list will be enough to reach the 3.5 per cent target.
Officials said the two sides cannot even agree on how much must be done, with the EU believing Athens will run a small surplus even without new reforms and the IMF projecting a 1 per cent deficit. The IMF is also insisting that sweeping debt relief is needed to enable Greece to reach the 2018 target, something that is politically difficult in Berlin.
The IMF has come under intense pressure to relax its stance, including from the US and UK, amidst fears the Greek programme could blow up at the same time as Europe struggles with a massive refugee influx and Britain is in the midst of an EU membership referendum.
But Greece does not need bailout cash until July, when about €3.5bn in debt payments come due, and the IMF has signalled it sees no urgency to reach a deal – leading some officials to believe Mr Thomsen is eager to end the IMF's participation. "There's growing fear in Europe that the IMF's hawkish stance is motivated by its desire to get out of Greece or force a change in government," said Mujtaba Rahman, head of European analysis at the Eurasia Group risk consultancy.
That has turned the focus on Berlin, where Chancellor Angela Merkel has been politically weakened by the refugee crisis and has expressed sympathy with Athens, which has become overwhelmed by the migrant influx – leading some Greek officials believe she will pressure the IMF to back down.
"Berlin is in a fix," said a senior eurozone official. "They would like to be somewhat more flexible, but the [bailout] agreement has quite explicit targets which are internalised by the Bundestag. And they do not dare to revisit this."
One senior member of Germany's governing coalition said even Wolfgang Schäuble, the hawkish finance minister, believes Berlin needs Athens to help solve the migrant crisis and is therefore averse to repeat last year's drama, where he promoted Greece's exit from the eurozone.
At the same time, Ms Merkel is reluctant to ease budget targets or grant sweeping debt relief – both of which must be approved by an increasingly hostile Bundestag – and the German coalition official said if the IMF holds firm, "then we have a problem."
Additional reporting by Stefan Wagstyl in Berlin
Copyright The Financial Times Limited 2016. You may share using our article tools.
Please don't cut articles from FT.com and redistribute by email or post to the web.