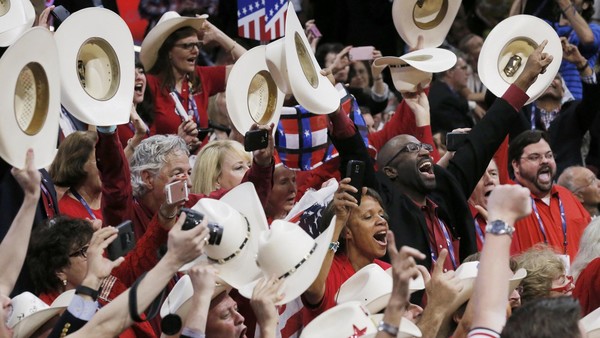 ©Reuters
Donald Trump, the New York property mogul and former star of The Apprentice, completed an unlikely journey on Tuesday evening when he was crowned the Republican presidential candidate at the party's convention in Cleveland.
"I am so proud to be your nominee for president of the United States," Mr Trump said from New York after the convention voted to make him the Republican presidential choice. "We are going to win the presidency and bring real change and leadership back to Washington. This is going to be a leadership that puts the American people first."
While Mr Trump will not formally accept the nomination until his primetime speech on Thursday, the result marks the official end of the Republican primary, one of the most acrimonious contests in recent history.
Mr Trump ousted 16 mainly establishment rivals as his populist campaign caught fire among the Republican base, and managed to avoid a contested convention after hammering his final rivals Ted Cruz and John Kasich in the last primary races.
"Congratulations Dad, we love you," Donald Trump Jr said earlier from the convention floor after he declared that New York had carried his father over the 1,237 vote threshold that marked the majority needed for the nomination.
Huge applause erupted in the Quicken Loans arena in Cleveland after the New York delegation cast the vast majority of their votes for the businessman who comes from New York and started his property business in the Empire State.
"Such a great honor to be the Republican Nominee for President of the United States. I will work hard and never let you down! AMERICA FIRST!," Mr Trump tweeted after it was clear that he had won the nomination as expected.
During the evening, each state cast their votes for the GOP contenders who had won delegates in the primary, which started in Iowa in February and ended when Mr Trump effectively clinched the nomination when Texas senator Ted Cruz and Ohio governor John Kasich dropped out following Mr Trump's victory in the Indiana primary.
Adding to the theatre, the New Hampshire delegation was led by Corey Lewandowski, the former Trump campaign manager who was ousted following pressure from the Trump children who pushed to replace him with Paul Manafort. "Two votes for Marco Rubio, three votes for Jeb Bush, three votes for Ted Cruz, four votes for Kasich, and 11 votes for my friend and the next president of the United States, Donald J Trump," said Mr Lewandowski.
The anointment of Mr Trump ended what had been a poor day for the Trump campaign. His team spent much of Tuesday fending off accusations that Melania Trump, the nominee's wife, had plagiarised part of her Monday night speech to the convention from an address that Michelle Obama gave at the Democratic convention in 2008.
"We are going to make America Great Again … We will win in November," Mr Trump told delegates over a video link, saying he looked forward to delivering his primetime acceptance speech on Thursday.
While Mr Trump has secured the nomination that almost every political expert said was impossible, he faces a challenge to unite people in the party who worry about his rhetoric which has included insulting women, disabled people, Muslims and Hispanics.
Paul Ryan, the Republican speaker of the House, spoke in support of the nominee and his running mate Mike Pence. But the Wisconsin congressman sent a subtle message about the need to end the kind of divisive rhetoric that Republican leaders worry will not only complicate their path to the White House but also jeopardise their majorities in the House and Senate.
"In America, aren't we all supposed to see beyond class, or ethnicity, or all those other lines drawn to set us apart and lock us in groups?" said Mr Ryan. "Everyone is equal . . . everyone has a place . . . no one is written off, because there is worth and goodness in every life."
Mr Ryan, who many believe harbours ambitions to run for president in 2020, called on Republicans to put their differences behind them in an effort to force a common front against Mrs Clinton in November.
"So what do you say we unite this party, at this crucial moment when unity is everything?" said Mr Ryan. "Let's compete in every part of America, and turn out at the polls like every last vote matters, because it will."
While Mr Ryan attended the convention, which he chairs because of his role as speaker, many high-profile Republicans, including the two former Bush presidents, and the two last Republican nominees, Mitt Romney and John McCain, skipped the event. Mr Kasich also avoided it, becoming one of few governors in history to skip the convention when it was held in his home state.
Let's

compete in every part of America, and turn out at the polls like every last vote matters, because it

will
– Paul Ryan, House speaker
When Mitch McConnell, the Republican senate majority leader took the stage, he was booed by delegates, a sign of his unpopularity among his Republican base. While the Kentucky senator has been slow to embrace Mr Trump, he repeatedly mentioned the nominee's name in his speech, promising that Mr Trump would repeal Obamacare, defund Planned Parenthood, build the Keystone pipeline and nominate a conservative justice to the Supreme Court.
"With Donald Trump in the White House, Senate Republicans will build on the work we've done and pass more bills into law than any Senate in years," he said.
Over the past two days, Republicans have hit out at Mrs Clinton over the attack on the US consulate in Benghazi and her use of a private email server while secretary of state, alleging that both incidents suggest she is untrustworthy and criminally liable. Her campaign has fought back, using the sister of the US ambassador who died in Benghazi as a campaign surrogate and repeatedly noting that the FBI found nothing illegal in her use of a private email server.
On Tuesday, Mrs Clinton sent out a fundraising plea to supporters on the back of Mr Trump officially securing the Republican nomination. "Donald Trump just became the Republican nominee," her campaign wrote in a tweet. "Chip in now to make sure he never steps foot in the Oval Office."
Copyright The Financial Times Limited 2016. You may share using our article tools.
Please don't cut articles from FT.com and redistribute by email or post to the web.