©Bloomberg
AB InBev moved a step closer to completing its £71bn takeover of SABMiller, after China Resources Beer agreed to buy out the London-listed group's stake in their Chinese brewery joint venture.
China Resources Beer will acquire SABMiller's 49 per cent stake in China Resources Snow Breweries — the brewer of the world's top-selling beer by volume — for $ 1.6bn, ending a 22 year-old joint venture that produced voluminous vats but punier profits.
Investors applauded the deal, sending China Resources Beer's share price up as much as 35 per cent in Hong Kong, before settling to close up 18 per cent at HK$ 15.10.
The transaction is a key milestone for AB InBev as it has been shedding assets to win regulatory approval across the globe to close the largest beer deal in history, dubbed MegaBrew by analysts.
"This announcement represents the next step in AB InBev's continued commitment to proactively address regulatory considerations in its recommended acquisition of SABMiller," said AB InBev.
The price of the deal was considerably below analysts' expectations.
"The acquisition implies a total value for CR Snow of HK$ 25.4bn, which is a 58 per cent discount to the valuation" implied by the market capitalisation of the parent company CR Beer, wrote Jessie Guo, equity analyst at Jefferies in Hong Kong.
"This suggests the deal values CR Snow at 18 times 2014 price/earnings," she wrote, adding: "As this acquisition is priced at a deep discount, it should bring meaningful benefit to CRB's earnings."
Jeremy Yeo, analyst at Mizuho Securities Asia, said CR Snow had taken advantage of AB InBev's desire to do a deal quickly, because of the need to move forward with regulatory approval. "Only one of them was in a hurry," he said.
Since the Belgian brewer made a formal offer in November last year to buy SABMiller, it has agreed to sell several big brands, including MillerCoors to Molson Coors and Italy's Peroni to Japan's Asahi.
Regulators around the world are looking closely at the deal as AB InBev's acquisition of SABMiller will create a megabrewer that is likely to control almost half the industry's total profits.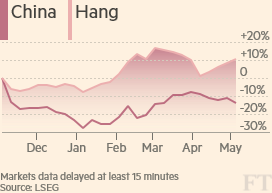 Snow beer is already the largest beer brand in China, with 21 per cent of the market, according to Euromonitor. However Snow is pitched at the lower end of the market, where margins are slim and sales have been hit by the mainland economic slowdown and consumers' changing tastes.
"This [deal] will give CR Beer more of a presence in a part of the market that has not grown well over the last couple of years and that is not likely to do particularly well this year," said Ben Cavender of China Market Research in Shanghai.
"The acquisition of the remaining stake in Snow could help to give the company more control over brand direction but it's unlikely that the deal is going to improve margins or profitability in the short term," he added.
Beer production in China in the first nine months of 2015, the latest period for which figures are available, fell 6 per cent year-on-year, according to local analysts.
Analysts said that the market for mass production beers such as Snow is nearly saturated, making growth in the sector difficult. China's beer consumption at 34.2 litres per capita is already ahead of the global average of 33, according to the US Department of Agriculture.
Future profitability will require premiumisation, analysts say. China is more than twice the size of the world's second largest beer market, the US, and Canaccord Genuity expects it to account for more than 30 per cent of industry volume growth in the next 10 years.
A combined AB InBev and SABMiller entity would have had more than 40 per cent of the beer market in China, putting it in antitrust regulators' sights.
When InBev acquired Anheuser-Busch in 2008, in the first published ruling of the new antitrust regime, Mofcom banned InBev from taking a stake in CR Snow.
Copyright The Financial Times Limited 2016. You may share using our article tools.
Please don't cut articles from FT.com and redistribute by email or post to the web.