©Bloomberg
Thursday 10:00 GMT. Commodity prices are higher as the dollar and Treasury yields retreat after the Federal Reserve indicated borrowing costs will stay low for longer.
"A dovish Fed should support risk assets in the near-term," said Deutsche Bank.
But European and US equity gauges have shed early gains as shares in financial groups struggle after Norway's central bank said it could join peers in pushing interest rates into negative territory.
The Fed on Wednesday kept interest rates unchanged, as expected, but reduced from four to two its mooted 25 basis point hikes in 2016.
Although the global financial market and economic volatility from earlier this year has subsided, the Fed still sees it as a threat to the domestic outlook, despite delivering a more positive assessment of the US economy overall.
The prospect of a slower pace of US monetary tightening has enlivened fixed income assets and hit the dollar.
The yield on 2-year US government bonds, which move inversely to the price, and which before the Fed's announcement had touched 1 per cent following stronger than expected inflation data, are down another 5bp on the day to 0.83 per cent.
The 10-year Treasury yield, which broke 2 per cent at one point on Wednesday, is off a further 7bp to 1.87 per cent as equivalent maturity German Bunds slip 7bp to 0.24 per cent.
The narrowing of the yield differential in favour of US assets over the last few sessions is weighing on the greenback. The dollar index, which shed 0.8 per cent in the previous session, is down another 0.9 per cent to 95.07.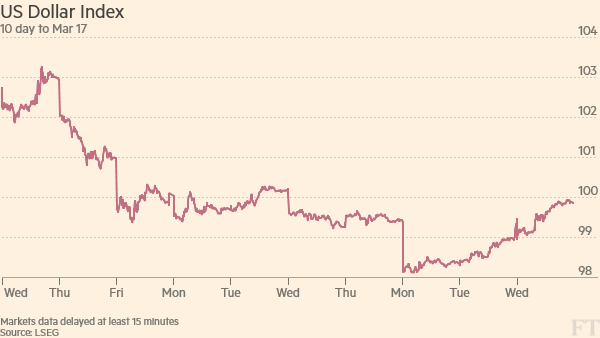 The price of gold, which tends to like a weaker dollar and dwindling bond yields, surged after the Fed decision and is up another $ 7 to $ 1,269 an ounce.
Stocks also tend to enjoy the prospect of lower borrowing costs and meagre bond yields that make holding dividend paying shares seem relatively more attractive.
However, after inheriting a positive session from Asia, US and European equity gauges have shed early gains.
US index futures suggest the S&P 500 will dip 3 points to 2,024, and the pan-European Stoxx 600 is retreating 1 per cent, dragged lower by weakness in banking stocks.
The sector has been rattled by the prospect of another European country moving interest rates into negative territory, a strategy that is seen as damaging banks' profits. Deutsche Bank shares are down 4.9 per cent.
After cutting borrowing costs by 25 basis points to 0.50 per cent the Norges Bank said: "Should the Norwegian economy be exposed to new major shocks, the Executive Board will, however, not exclude the possibility that the key policy rate may turn negative".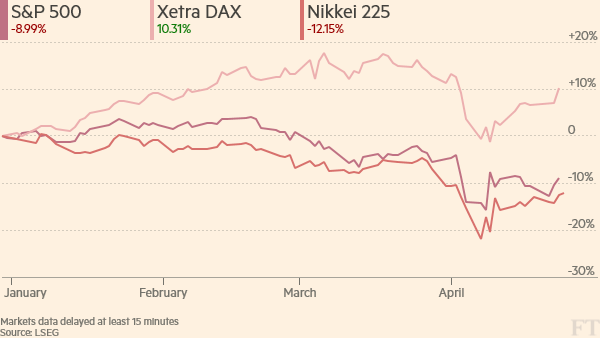 The mood was more upbeat in Asia. Hong Kong's Hang Seng and China's Shanghai Composite rose 1 per cent and 1.2 per cent respectively.
Australia's S&P/ASX 200 also closed 1 per cent higher, led by mining and energy stocks that benefited from the jump in commodity prices thanks to the softer buck.
Copper is up 0.5 per cent to $ 5,013 a tonne in a broadly positive base metals sector, while Brent crude, the international oil benchmark, is gaining 1.7 per cent to $ 41.01 a barrel.
So-called commodity currencies, such as the Australian, New Zealand and Canadian dollars, are seeing gains against their US namesake, the former's 1.3 per cent pop also due to better than expected employment data.
Emerging market currencies, which tend to falter at the prospect of higher US borrowing costs, are also feeling chipper.
The JPMorgan EM currency index is up 1.3 per cent since Tuesday, while the FTSE EM equity index has added 2 per cent over the same period.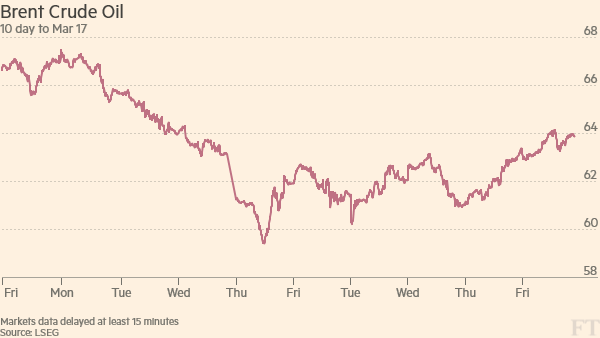 The Japanese yen is a notable performer amid the broad dollar weakness, its 1.2 per cent gain to Y111.26 per buck coming despite disappointing trade data.
Imports fell 14.2 per cent year-on-year in February, while exports were down 4 per cent, with the upshot being that the pace of declines had moderated from the previous month.
The trade balance swung to a Y242.8bn surplus in February, but analysts at Capital Economics said this "should worsen again before long as the yen weakens and crude oil prices continue to rise".
The yen's strength did for the Japanese stock market, where the Nikkei 225 turned an initial 1.6 per cent gain into a 0.2 per cent loss by the close.
Additional reporting by Peter Wells in Hong Kong
For market updates and comment follow us on Twitter @FTMarkets
You need JavaScript active on your browser in order to see this video.
Copyright The Financial Times Limited 2016. You may share using our article tools.
Please don't cut articles from FT.com and redistribute by email or post to the web.