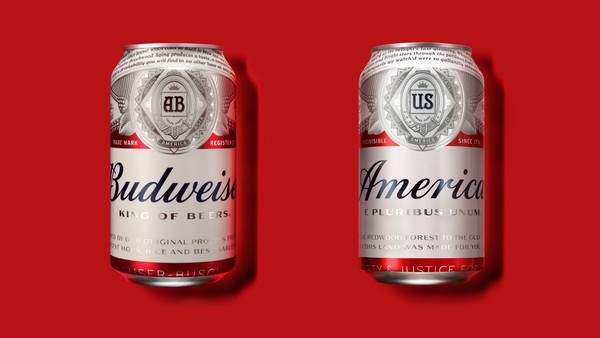 In a bid to capitalise on US election fever during the busiest season for beer sales, Budweiser will replace its name with "America" on the front of its 12-oz cans and bottles from May 23 until the presidential vote in November.
The rebranding will be part of a campaign titled "America is in Your Hands", aiming to "remind people . . . to embrace the optimism upon which the country was first built," the company said.
Budweiser's campaign comes amid a historically combative US presidential race, as two candidates with unfavourable ratings appear set to battle it out and as the rise of Donald Trump has confounded expectations.
It also coincides with the critical summer months during which US brewers draw about one-third of sales in the $ 106bn market. This will be the "most patriotic summer that this generation has ever seen," said Ricardo Marques, vice-president of Budweiser, citing the summer Olympic Games.
"This is a bold move. It's a bit like if Apple changed its name to 'innovation', because one of the core associations of (Budweiser) is already America," said Scott Galloway, a professor at New York University. "It could be a stroke of genius, but I think it's a risky change . . . to what is arguably one of the world's greatest brands."
Budweiser is owned by AB InBev, the Belgian-Brazilian company that is the world's largest brewing group by market capitalisation.
AB InBev, which reported disappointing first-quarter earnings due to softness in Brazil and North America, has looked to cut costs and raise prices to cope with slow growth. It is awaiting regulatory approval of its $ 106bn takeover of rival SABMiller.
Budweiser's US market share, which fell by 25 basis points in the first quarter, has slipped in recent years as consumer tastes have shifted away from large commercial brands in favour of craft beers, which now command 21 per cent of the market according to the Brewers Association, an industry group.
Budweiser's "king of beers" slogan will be replaced with "E Pluribus Unum" ("Out of many, one"), and lyrics from the "Star Spangled Banner" and "America the beautiful" will appear on the new packaging. Budweiser will also promote the cans and bottles in a TV commercial on June 1.
Copyright The Financial Times Limited 2016. You may share using our article tools.
Please don't cut articles from FT.com and redistribute by email or post to the web.