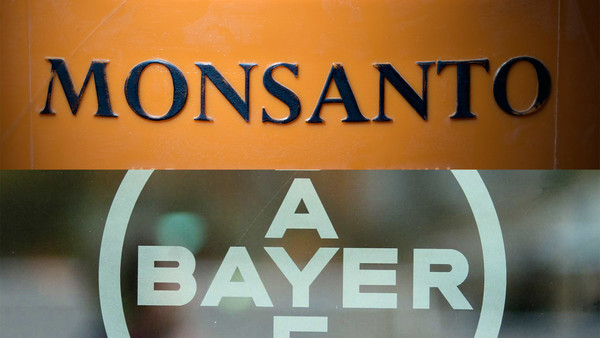 ©Bloomberg
Bayer, the German aspirin-to-weed-killer conglomerate, was putting the finishing touches on Sunday night to a $ 46bn-plus all cash offer for Monsanto, which it could unveil to the market as early as Monday morning Europe time, people familiar with the matter said.
The purchase of the US agribusiness, which would be the biggest outbound German takeover since carmaker Daimler-Benz acquired Chrysler for $ 38.6bn in 1998, would create a global juggernaut in the business of providing everything from seeds to crop chemicals to farmers.
Any deal to acquire Monsanto is expected to value the St Louis-based company at a premium to its market value of nearly $ 46bn at the close of last week, according to people close to the process. They warned that the situation and timing remained fluid.
Monsanto said last week it had received an unsolicited offer from Bayer but it did not disclose the terms of the proposal. Bayer, which confirmed the approach, also declined to give further details.
The decision to make the terms public come after Bayer's shareholders raised concerns, fearing it would need to raise substantial capital to fund the deal. Bayer, which has a market value of €74bn, has seen its share price drop by more than 10 per cent since news of its interest emerged.
Several banks have been lined up to help Bayer fund the deal, people familiar with the matter said.
If successful, the deal would show that large multinationals are still chasing industry-transforming deals, despite the unravelling of many of the big transactions agreed in 2015.
For its part Bayer — under freshly minted chief executive Werner Baumann — would become the world's biggest agriculture supplier, and bring Monsanto's's focus on genetically modified seeds to its stable of crop sprays.
The agribusiness sector is on the verge of a massive consolidation following deals between Dow Chemical and Dupont along with Syngenta and ChemChina. A tie-up between Bayer and Monsanto would leave Germany's BASF as the only outlier going solo among the main competitors in the industry.
Hugh Grant, Monsanto's chairman and chief executive, has backed combining the capabilities of the leading seed and chemicals companies in recent years. However, he has failed on three separate occasions since 2011 to convince its most compatible rival, Switzerland's Syngenta, to agree a deal.
The latest failure, which came last year, pushed Syngenta into the hands of ChemChina, a Chinese conglomerate, and left Monsanto looking vulnerable.
The scale of consolidation is likely to invite scrutiny from anti-trust regulators, in Washington, Brussels and elsewhere. Analysts say there is not significant revenue overlap between Bayer and Monsanto but a combination could give it greater control over farmers' supply chains.
Copyright The Financial Times Limited 2016. You may share using our article tools.
Please don't cut articles from FT.com and redistribute by email or post to the web.