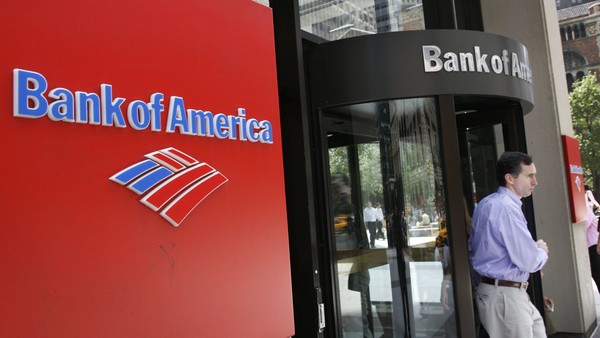 ©Bloomberg
Bank of America on Monday underlined the pain that the world's largest lenders are feeling from rock-bottom interest rates as it disclosed another drop in revenues and profits.
The biggest US retail bank by deposits, which operates about 4,700 branches serving 47m consumer and small business customers, is regarded as among the most exposed in the industry to low rates given the scale of its domestic retail business.
Between April and June the bank delivered net income of $ 4.2bn — a recovery from $ 2.68bn the troublesome first quarter, helped by a bounce back at the trading operations of its investment bank division, but down 18 per cent from $ 5.1bn in the comparative period a year ago.
The results were the latest to show how Bank of America is feeling the pinch from ultra-low rates, which squeeze the profits banks make from lending. Net interest income fell 12 per cent from $ 10.5bn to $ 9.2bn.
Total revenues came in at $ 20.4bn, a year-on-year decline of 7 per cent.
Bank of America has struggled to deliver consistent improvements in its financial results. For several quarters they were distorted by multibillion-dollar post-crisis litigation settlements. In the first quarter they were hit by the slump in trading that affected all of Wall Street and the City of London.
The bank generated a return on equity — a closely watched metric — of 6.48 per cent in the second quarter, down from 8.42 per cent a year ago.
In response to the pressures the bank, which employs more than 200,000 people, has sought to cut costs. Expenses fell 3 per cent in the first quarter to "a level not seen since 2008", said Brian Moynihan, chief executive
"We had another solid quarter in a challenging environment," he said in a statement.
The results were also weighed down by the decision by the bank to set aside $ 976m for credit losses in the second quarter, $ 196m more than a year ago.
BofA said that a year ago it had released more from its reserves and said there was a "a slower pace of improvement in the consumer portfolio" but added "overall credit quality remained strong."
Like its peers JPMorgan and Citigroup, Bank of America showed improvements in trading. Sales and trading revenue rose 14 per cent to $ 3.5bn.
Shares in Bank of America have lost 19 per cent this year, making it the second worst performing in the KBW index of 24 US listed banks. That has left it trading at little more than half the bank's book value.
Copyright The Financial Times Limited 2016. You may share using our article tools.
Please don't cut articles from FT.com and redistribute by email or post to the web.